Lusting tool numero uno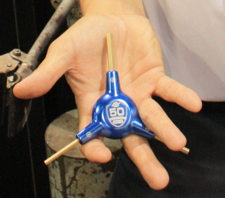 yep gold plated three way
30$ thanks park Tool
Okay so I love friction shifting or hell, indexing is cool too, but...
With the cost today of many STI, campy or sram double tap setups how in the world would you think I want that on my cross bike?
This solves that with a little more robust package, the guys over at retroshift developed this product which simplifies it and is cheaper than even just one Shimano 105 Lever.
I think these are a great option for my impending build.
So here's what I am thinking, something that can get super dirty, probably won't wash it much other than to check out the new
WD-40 Bike Wash
. BUt really just thinking something along the lines of sealed housing, good wheels, thomson bits, etc.
Dear Surly I hope that the hospital foam cross check is available as frame only otherwise I will be getting rid of a lot of parts.